Description
Gate Barrier System
Parking Gate Barrier or Boom Barrier gate
Are you tired of dealing with unwanted visitors in your commercial or residential property? Or perhaps you're looking for ways to improve security and access control on your premises? Timevision one of leading gate barrier system in Dubai and Boom Barrier system installation company in UAE. We provide best price and free support. Automatic barrier gate system provides powerful solution for manage commercial and residential building entrance and private parking areas. Timevision provide excellent barrier system with affordable price for client requirement. And we suggest suitable gate barrier for different site conditions based on client requirements. Parking gate barrier generally known as Boom gate barrier or vehicle barrier which restricted the unauthorized vehicle in your building commercial and residential areas.
Gate Barrier System in Dubai
Barrier gate system are commonly utilized in residential areas and parking premises for safe and authenticated access. parking barriers control the vehicle access at the station, exit gates. They consist of a hard and fast metal block that carries off a pole that operates electronically and blocks the unidentified vehicles at entry, exit gates, and allows them after proper authentication. We stand tall on the expectations and wishes of the people in delivering all variants of pass gate barriers and stop gate barriers. We supply all kinds of Long-range, Automatic, Manual & maintenance free parking boom barriers. various types of barrier gate are available. swing barrier gates, barrier gate opening motors, maxima-ultra gate barrier system and door access control with barrier system.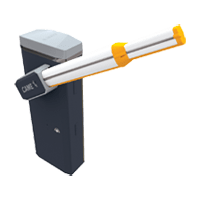 Boom barrier
Barrier gate systems are essential for ensuring safety and security in various locations, including residential and commercial complexes, parking lots, and industrial facilities. These systems comprise several components, including gate barrier motors, which are responsible for powering the gate and enabling it to open and close smoothly. Barrier gate motors come in various types, including electromechanical and hydraulic motors. Electromechanical motors are popular due to their versatility, low noise levels, and ease of maintenance. They are also cost-effective and ideal for smaller gates.
Installing a boom barrier system can greatly improve the security and access control of your commercial or residential property. With Timevision, one of the leading boom Barrier System in Dubai and installation companies in UAE, you can rest assured that you are getting the best price and free support for your barrier system. Their automatic gate barrier system provides a powerful solution for efficiently managing entryways and private parking areas. So, why wait? Contact Timevision today and secure your property with an excellent barrier gate system at an affordable price. are you looking gate barrier system in Dubai timevision one of the best Boom Barrier installation and supplier.
An Automatic boom barrier can be operated through